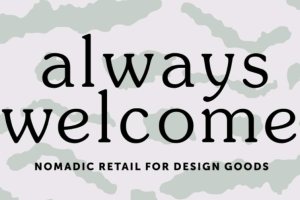 Established in 2020, Always Welcome is a multi-brand cooperative retailer of Southern Africa's leading designer-maker studios with a flagship store in Johannesburg and an extensive online marketplace.
Our unique diversity of designers, celebrated artistic voices, and creative campaigning is making the space an incubator of new ideas that architects, interior designers and cultural critics look to for inspiration, and where the public can experience a curated collection of the best in Southern African design.

We look forward to you experiencing the craftsmanship and quality of Southern African design, and becoming as passionate about supporting these inspirational, and highly collectable, design studios as we are.