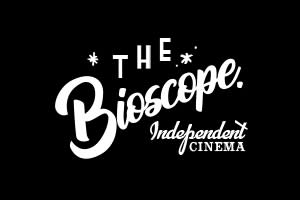 The Bioscope has proudly been Johannesburg's independent cinema for the last 11 years! What does this mean? Well aside from being independently owned, the majority of what we screen is different to what you would find at a big commercial cinema. We used to be based in Maboneng, but as of July 2020, we are now based in 44 Stanley which is in Milpark.
We just have the one cinema room, which seats 47 people. We have alot of public screenings, all of which are listed here in our coming and current attractions page. We have a mailing list you can sign up for, where we send out weekly programs of what is screening. We also recommend you follow us on instagram for more updates on what public events are going down.
So what do we screen? Well sometimes its not even cinema! We do live stand-up comedy, live music, improv comedy, and special talks. When it comes to cinema, we try focus on locally produced content wherever possible! We enjoy screening topical documentaries, and working with embassies to screen films from around the world. Over the last ten years we have developed our own unique signature events like DumplingBox Cinema, Ugly Cry Night, Sing-Alongs, anniversary screenings, and more.
Then an important thing to remember is that the cinema is available for hire! From just two people to a big conference or production wrap party, we can cater for it all. We especially enjoy birthday parties, and have packages tailored for every kind of event.
We have all the catering you need. All of which is served and enjoyed in the cinema, as well as our beautiful outdoor courtyard. We specialise in pizza over here. Here is more info on The Bioscope Cafe.