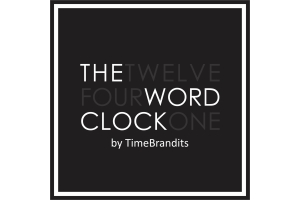 TimeBrandits will be showing their exquisite range of unique digital WORD clocks at Johannesburg's edgiest design and décor show!
We've got time for you!
Designed and available right here in Johannesburg, these amazing time pieces, have given the traditional clock a completely new look. WORD clocks display the time in words, not numbers!
The time is shown in LED illuminated words, changing in five-minute intervals. These are not mere clocks but works of art to be elegantly displayed in homes, offices, hotels, and public spaces. The modern sleek façade with carefully chosen font, adds to their appeal. Either wall mounted or in desktop format, they enhance and add impact to modern living spaces.
A wide variety of colours are available; in standard or personalised designs; in gloss acrylic or titanium mirror finishes.
They will be launching their biggest clock, for super large wall spaces at Design Joburg. 1m x1m, in gloss acrylic finish, this is a huge piece of functional art!
View their range at the upcoming Design JOBURG Show on Stand E10.