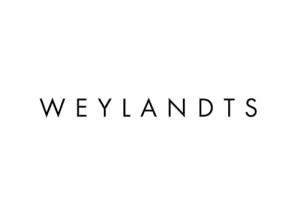 From its humble beginnings in 1964 as a traditional furniture store in Windhoek, Namibia, Weylandts has grown into South Africa's leading furniture and homeware retailer with 12 stores nationwide.
Inheriting his father's eye for extraordinary furniture and an appreciation of good living in its widest sense, Chris Weylandt has developed the brand into one that's synonymous with bold, confident aesthetics and timeless taste. At the heart of Weylandts' aesthetic vision is the unique fusion of clean, contemporary design with the soul of natural material.
With an infrastructure that enables us to manufacture, source and import furniture and homeware from every corner of the globe, Weylandts established itself as a brand with a reputation of merging the best handcrafted traditions from around the world with the confidence of masculine minimalist design.
In line with our philosophy of good living, the Weylandts brand extends to Weylandts Spaces, a bespoke interior design and concept service, and the Maison Estate in Franschhoek — home to a collection of superb wines and a fine dining restaurant. Our in-store experience includes The Kitchen restaurants and niche coffee bars at selected stores — bringing to life our vision of celebrating good living with all the senses.