Design Joburg presents Elle Decoration's Best Designer of the Year 2019, Yinka Ilori, brought to you by Kohler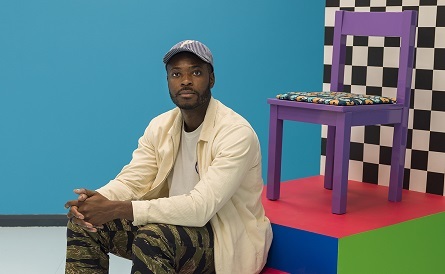 DESIGN JOBURG featuring Rooms on View presented by Sanlam Private Wealth 2019 presents YINKA ILORI
This year Design Joburg has teamed up with KOHLER to bring London based designer Yinka Ilori to the show as part of the line-up of speakers within the KOHLER Theatre.
Visitors can expect to see Ilori twice during the course of the our opening day, first in a solo presentation and then again as part of the KOHLER Design Forum, a platform for architects and designers to come together, discussing design in an enlightening knowledge exchange session.
Ilori is the winner of Elle Decoration's British Design Awards for 2019, a tribute to this artist and designer's dedication to representing his Nigerian heritage and his subsequent body of bold and layered work. Recognisable for his series of vintage chairs, constructed from parts of discarded furniture, Ilori has become an icon of the African diaspora whose work has evolved to include installations too. Born in London, but of Nigerian descent, he uses his heritage as a compass for his work which serves to weave African narrative into newfound form. Colourful and vibrant, sometimes decorative, sometimes functional, his furniture is far from merely an exercise in reuse, it's steeped in meaning and serves to teach the user about morality, values and consumer wastage. This June, visitors to the London Festival of Architecture will be able to experience two of Ilori's site specific works, The Dulwich Picture Gallery pavilion in collaboration with architects Pricegore and the Thessaly Road Railway bridge conversion.
This three-day platform is set to inform and inspire thanks to the knowledge exchange between some of the industry's most influential creatives as they engage in thought-provoking dialog. The KOHLER Theatre will be located within an inspiring auditorium space put together by the show's Creative Directors Philippe van der Merwe and Greg Gamble, of Tonic fame, in partnership with Belgotex Carpets.
Over and above this, a not-to-be-missed line up of South African and continental design thinkers and leaders will take to the stage throughout the rest of the weekend, ending on Sunday May 26, 2019.
Share this article: