In-Residence, an installation by Julia Day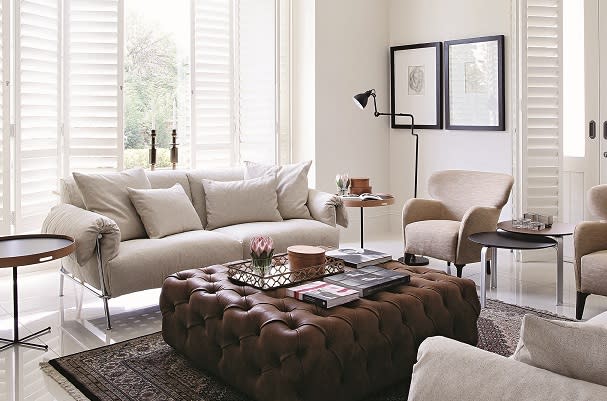 Julia Day, interior designer and founder of Generation will be returning to Design Joburg featuring Rooms on View in May this year with a CoLab stand that'll flip the typical exhibition space on its head.
For In-Residence, an installation by Julia Day, the designer is creating a luxurious lounge that will cocoon visitors, a space so convincing you'd never know it was temporary. Characteristic of Day's approach to her residential projects, she is insisting on two things: authenticity and a dream team comprised of the industry's foremost artisans in the fields of steel, shop fitting and lighting, respectively Sven Magnussen of Pazz Design, Riaz Aziz of T & R Design and Marc Machtelinckx of ELDC. "We are all about the client experience and we are working with this team because they understand that," she says.
Her lounge will not only provide a serene stage for the renowned European brands that Generation store carries, but will showcase the exceptional work of the master craftsmen she has collaborated with.
While Day's name is associated with a trail of sophisticated architectural interiors, using pieces marked for their quiet luxury and timelessness, she insists that the success of those projects is in equal parts due to the skill of her contemporaries and her own sense for elevated design. "I wanted to work with artists in creating this stand. In the way that De Padova's pieces are expertly crafted, the stand interior is also crafted by us," she says.
Day's lounge will include a full steel envelope, rarely seen in stand building, and Manhattan loft style screens which will function both structurally and decoratively. Beneath a floated ceiling, beautiful decorative and task lighting will selectively illuminate furniture and finishes. Custom dark oak bookshelves will frame a sensuous, organically formed fireplace that will undoubtedly be the stand's showstopper feature, and slick furniture pieces from the likes of iconic De Padova designers Vico Magistretti and Kensaku Oshiro will uphold all that Day stands for: understatement, unparalleled craftsmanship and fine detailing.
"I've mixed old and new in order to demonstrate that with brands such as these, if it's designed in 1985 or 2005, you can't see the progression of time and it's because of their ethos."
Purposeful connections will be drawn in the details between the furniture and the fireplace, the carpeting and the bookshelves, the glazing and the lighting in an ode to design harmony. Velvet curtains and plush carpeting in a rich chocolate hue will serve to cosset the visitor, separating them from the busy exhibition hall, while Day will style the lounge as if it were her own home. "If you want people to imagine they're in a real space, you have to go the whole way," she insists.
Beyond just occupying a stand number, Day will be activating her lounge with discussions between industry leaders and invited guests, both enlightening visitors and forging vital connections for trade. Generation will also be launching brand new arrivals from De Padova, namely Gam Fratesi's elegantly restrained Etiquette Sofa and Omi Tahara's curvaceous Blendy Armchair.
Share this article: