Latest addition to show's Creative Panel announced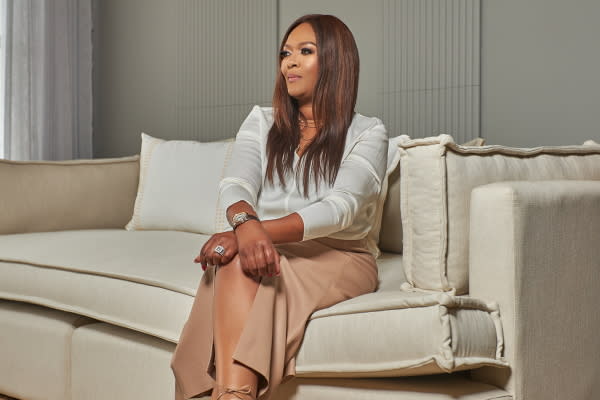 We chat with Bilala Mabuza, Founder & Creative Director for Cocoon Lifestyle, who is one of the latest members of Design Joburg 2022's Creative Panel. This panel will oversee the creative direction of this year's show by creating an experience that captures the décor and design scene in South Africa right now.
What is Cocoon Lifestyle best known for?
Cocoon Lifestyle is about the story of conscious refined design and living. We collaborate with our clients who are collectors in their own right; to design, refine and create spaces and homes that are reflective of who they are and their loves.
Your thoughts on being a member of DJ22's creative panel?
I'm honoured to be part of the creative panel for Design Joburg 2022 and hope we can continue to build on the ethos of excellence and collaboration that Design Joburg is known for while expanding the spotlight beyond the "artificial silos" of architecture, interiors, furniture and lighting design by incorporating a broad spectrum of creative genres to highlight what "We Design Africa" means for us; for past, present and future generations.
What and how do you see yourself in this role?
I see myself continuing my quest for conscious, refined and considered design by ensuring that we collectively build and sustain a broader creative and design culture, community, and legacy we can all be proud of while boldly supporting, nurturing the next generation of creatives from our continent.
How will you be showcasing yourself and your talents at the show?
Cocoon Lifestyle will be tackling conversations in the show's Design Talks. I'll be exploring the relationship between conscious living and wellness while highlighting the handmade narrative in our curation. We hope to create a space that is engaging, soothing and thoughtful.
What are you hoping people will take away from this year's show?
Exhibitions as we have come to know them have been on hold for about 2 years now and the inception of Design Joburg Collective in the Kramerville Design District, and related design neighbourhoods within Joburg, in the past year kept the design conversations alive.
My hope is that 2022's showcase demonstrates the evolution with powerful, engaging experiences and spaces that allow the creative community, guests, and the public alike to question, engage and hopefully marvel at the 'future of design' and the role design continues to play in shaping the world as we know it.
Important topics and concepts like sustainability in design, technology, and the role it continues to play in pushing the envelope, the excitement about the metaverse, virtual reality, biophilic design and the human element in design are all topical. We also not lose sight of deliberate long term commercially viable relationships resulting from collaborations born from Design Joburg's pairings of the creative and business community and the importance of growing and sustaining the business of design beyond the show.
Is there still room for old school techniques and approaches in design today?
My ideal "happy place" is where skilled craftsmanship is nurtured and passed down generations while finding expression through new media, technology and applications that continue to push the boundaries of what is creatively possible. Creatives are fully engaged with new media and technologies and the integration of the two will continue to find expression and surprise us.
What's your favourite piece of design?
I'm obsessed with clay and ceramic art. I have the utmost respect for work shaped by the hands as it is deeply nostalgic for me: growing up with a grandmother who made beautiful and functional items by hand. I grew up with my senses fully engaged and understanding that beauty, architecture, design, craft, fashion, books, art and photography all hold a special place in the art of living.
What role do you see South Africa playing in terms of its contribution on the global design stage?
Our stories and heritage continue to inspire a wide genre of creatives the world over. We also live in a naturally beautiful part of the world abound with inspiration and evident in the level of creativity and incredible locally made products from South Africa. Design Joburg is well positioned to highlight the best of what we have to offer.
Share this article: