Lifestyling chats to artist Atang Tshikare about his journey from surface design to sculpture.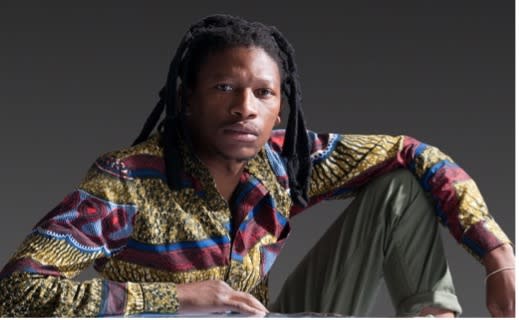 He's become one of South Africa's most noteworthy multidisciplinary artists. We're intrigued to witness his creative journey evolve from his early days of drawing and surface design to a sculptural artist whose work is collected around the globe.
Tell us about your focus on sculpture and how you've moved away from surface and product design?
My journey with sculpture started with drawing on paper and working on other surfaces, graffiti and so on. At some point, I started collaborating with people who were already making products, your conventional furniture, wallpaper and other items available at your usual décor retailers.
For me, that route didn't really make sense because of the way I think. Everything I see is organic: plants, water, earth and so on – so, by the time I had done a few collaborations, I had seen enough to know that there was a different direction for me.
At the time, I started on my first piece called Le Bone Lebone. My journey from drawing to collaborating on surface designs and then onto sculpture seemed like a journey that was naturally bound to happen. I always felt I needed to represent myself more. Two-dimensional felt limiting at the time, so sculpture was a natural progression.
Surface design is about taking something that already exists and adapting it by adding something more that will make it look different. For me, this is one way of creating work collaboratively and in larger volumes. I'd like to think this is an area I've done well in under my Zabalazaa brand, whereas art and sculpture are a product of me and my own thoughts.
Your latest work entitled, Modimolle, consists of several stacked pieces, tell us about this work, its functionality and how it came about?
Modimolle is a sacred mountain in Limpopo, and this art piece is a representation of it. It consists of three side tables, a seat and a standalone sculpture at the top. From the bottom to the top, it's basically made up of the mantle of the mountain, the crust, the bedrock and finally the flora, like trees and bushes. Whilst at the top, we have a character called Okae: a character I've created that is part of a bigger story I am hoping to publish as a novel this year.
In terms of the materials, starting from the top this time; we used Jacaranda to create the character Okae, then Stone Pine, followed by sandstone, bronze with a rough brown patina and then at the bottom it's bronze again, but this time in black with brass "bumps" as accents. It measures about 2.1 meters tall and there is an edition of five.
Modimolle is an art piece for a property called Clifton Terraces in Cape Town. The client allowed me the freedom to come up with the concept. The only brief was that he wanted a tall cylindrical piece, so I made one and in the process, I created five separate pieces that work individually or as a single sculpture.
You work with some leading art galleries and high-end retail stores, how have these partnerships impacted on your career?
Southern Guild were instrumental in getting my work out internationally into places like Miami and Dubai. My work involves so much creativity and ingenuity which needs to be seen internationally. The patrons of these international fairs really understand and appreciate what goes into my art, as does the team at Southern Guild. I am always appreciative when they take my work to these international fairs.
Similarly, ARRCC and OKHA's invaluable knowledge and connections – from Brazil and New York to Los Angeles – provide further opportunity for my work to be seen and appreciated by a global market.
Finally, what can we expect from you in the future?
More beauty, I guess. I am looking at myself less and less as a designer. I am connecting with the emotions and intellect that go into creating art and I hope people see me like that. For 2021 I am creating a couple of shows with my son: for my son and about my son and the first one will be held on 3 March at 196 Victoria Road in Woodstock.
I'll also be working with different international artists from a cross-section of genres including music, visuals and more.
www.atangtshikare.com | @atangtshikare
Interview courtesy of www.lifestyling.co.za
Share this article: