Q&A with Andile Dyalvane from Imiso Ceramics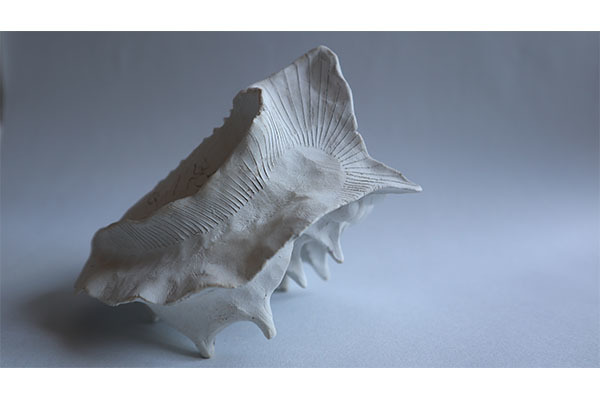 Celebrated South African ceramicist Andile Dyalvane of Imiso Ceramics shares his work-from-home process during South Africa's national lockdown (read the Q&A below). Andile has made a name for himself as one of South Africa's top ceramic artists, whose work integrates African pottery typologies with innovative contemporary accents in the form of spectacular sculptural statement pieces that are deeply embedded with cultural narrative.
We're so looking forward to a really exciting collaboration at Design Joburg 2020 between himself, Steenberg MCC and Akanani (the creative duo of Amanda msimango and Lynette Thabo), who are designing a bar sponsored by Sanlam Private Wealth, with ceramics by Andile.
For our #DesignTogether series that shares the experience of local designers working in lockdown, we asked Andile a few questions.
How have you adapted to working from home during the time of Corona and self-isolation?
A: First a sort of shock activates emergency modes for everyone I would imagine. Then how to at best strike some semblance of balance during this volatile time of epic global moments creating our history. Taking crisis and turning it into opportunities to learn new skills has unfolded but not before we rearranged our home space as a cleansing practice that has set us to the task of clearing our minds of noise.
How does working from home impact on your design process?
A: Interestingly, my skill set has extended itself to short filmmaking whilst learning how to innovative, adjusting to the new environment I'm working in. As unpredictable as the weather is I have had to rescue some works, readjust positions and continue to build works.
They say creativity often emerges from challenges and obstacles; would you say there's any truth in this?
A: Yes, nature is quietly miraculous in her creations, we may not see the underground networks but they brilliant in design, function and a phenomenal teacher.
Do you think aesthetics become more or less important during times of crisis?
A: Aesthetics is important to me, beauty and meaningful appreciation is crucial when all that's being experienced is the adverse effects of this far reaching crisis. The heart ought not to be burdened further by thoughtless, mediocre efforts and that's why learning is so essential.
How do you keep yourself motivated?
I play an instrument with my wife called iSitolotolo or Jaws harp and this assists in taking a moment to acknowledge the present. Motivation begins with this gathering of yourself toward what is important. Breathing together really boosts our energy.
Name the most beautiful object in your lockdown space?
A: We established a great workshop team at Imiso Studio and pre-lockdown decided to create a platform called 'Q-workshops', 'Q' for quarantine, quality time and questions. Primarily workshop team members and a few friends share their daily clay creations with one another and on their social media platforms. This keeps us de-stressed, present and focused.
I recently created a piece with clay from Ngobozana, went clay winning in the donga's. It resembles early Bantu clay sculptures of Bantu People of Southern Africa. I felt it resonate with me before I located its memory in history as the latter, it reminds me that I am a vessel, channeling creativity throughout and beyond time as we have come to think of it.
Are you collaborating and/or reaching out more to other creative people? Are you behaving in ways that surprise you?
A: Yes, as mentioned we're journeying through clay with our amazing Imiso Studio workshop team and friends Madoda Fani and Atang Tshikare. In a way, my influences have shifted to incorporate a more playful approach perhaps because my kids, cat and family have become such a present part of my daily activities. I assign creative projects to them with a deadline or link face paintings I'd do on their faces to interpret into clay sculptures. All projects leading to a showcase. This allows my innovativeness to expand possibilities for my own work.
Share this article: